History
Jämes-César Pellaton 1873-1954
Watchmaker since 1895
Jämes-César Pellaton was born on 24 December 1873 in la Croix des Côtes. After finishing primary school, he does his watchmaker apprenticeship at his father's workshop, Albert Pellaton-Favre (1832-1914). The latter was recognized as an exceptional watchmaker, specialist for tourbillons and chronometers.
Albert Pellaton transmitted his talent to his eight sons but Jämes-César inherited the most of it. In November 1898 Jämes-César begins to work for Ulysse Nardin S.A. in Le Locle. He stays there less than 5 years as a specialist of detent escapements, marine chronometers and on-board chronometers.
On 29 July 1903 he was hired at the Ecole d'Horlogerie du Locle where he will make an exceptional career for thirty-six years. He was first appointed as a teacher for the escapement class in 1903. His course was very successful. From 1908 he teaches watchmaking theory in addition to his escapement class. Furthermore he will promote the manufacturing of tourbillons in the school for gifted students. In 1909 the second tourbillon made by a student is finished when the first one is examinated by the Observatoire de Neuchâtel and is awarded the first price. The Ecole d'Horlogerie du Locle shows tourbillons and other pieces at the National Exposition of Bern in 1914. During the time Jämes-César was teaching, his students will produce 23 tourbillons.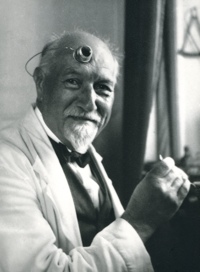 On 6 July 1918 Mr Pellaton is appointed deputy director after having served as interim director. With such a promotion he was not able to fulfill his teaching job at 100%.
In 1921, he wrote a book on the theory of escapements. The quality of this book is so high that it becomes mandatory to study it in all Swiss schools except in La Chaux-de-Fonds which uses the book written by P. Berner. This book is also used at the school in Besançon in France and translated into German and Finnish. Five editions of this book will appear.
In 1926 Jämes-César Pellaton caused a sensation in creating the smallest tourbillon of the world with a caliber of 10 ½ ```. In 1929, Jämes-Caesar Pellaton was appointed director. He replaces P. Defossez. He will hold this position until his retirement in 1939.
During his spare time Jämes-César Pellaton manufactures on its own 35 tourbillons for Patek Philippe and some others for Girard-Perregaux. He will produce movements for Ulysse Nardin and Zenith. Driven by passion, Jämes-César Pellaton will continue to work during his retirement from 1939. He produces pieces with tourbillon, detent escapements and anchor escapements on demand for private clients. These masterpieces cause nowadays the admiration of watchmakers and collectors.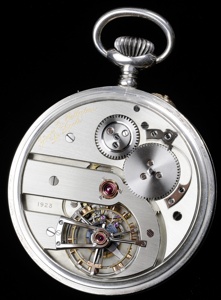 Due to his theory about escapements that became broadly accepted and his scientific researches in the watchmaking field, Jämes-César Pellation was able to build important relationships abroad, especially in the Nordic countries.
Indeed, he was awarded Honorary Member of the Union of Watchmakers of Finland in 1937 and decorated by the Finnish Watchmakers Society with the White Rose Order. This is the first time such an award is given to a foreigner. He also receives the Schwender large gold medal from the Swedish Watchmakers Congress in 1948.
The merits of Jämes-César Pellaton are also recognized in the county of Neuchâtel. Following the proposition from de Faculty of Sciences and by order of the Conseil d'Etat from the 18 October 1938, Mr Jämes-César Pellaton was appointed Doctor Honoris Causa from the University of Neuchâtel. He receives this tittle on the 12 November 1938 for the 100 years anniversary of the University of Neuchâtel.
In addition he is appointed in 1942 honory member of the Swiss Official Chronometer Testing Institute (COSC) in recognition of outstanding services made to the science of watchmaking. Mr Pellaton receives in 1946 the price of the COSC for "exceptional artistic work". Finally he becomes honorary fellow of the Société des anciens élèves du Technicum du Locle and honory member of the Fédération des anciens élèves des Ecoles techniques de la Suisse occidentale.
These awards and commendations that accompany these merits reflect the appraisal for the talent of this watchmaker and former director of the Ecole d'horlogerie du Locle, who passes away in Le Locle on 11 January 1954 at the age of 81 years.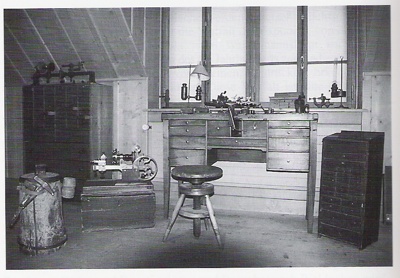 In this spirit Michel Dawalibi revived the name of Jämes-César Pellaton in 2009. The timepieces he produces follow the finest watchmaking tradition and exactly reflect the philosophy of Jämes-César Pellaton. According to Michel Dawalibi the art of creating tourbillon timepieces is not only the result of a tour de force but consists in glorifying the genius of Jämes-César Pellaton.
The driving idea of tourbillon maker Jämes-César Pellation was to be as close as possible to perfection. It is now an ideal for Michel Dawalibi.